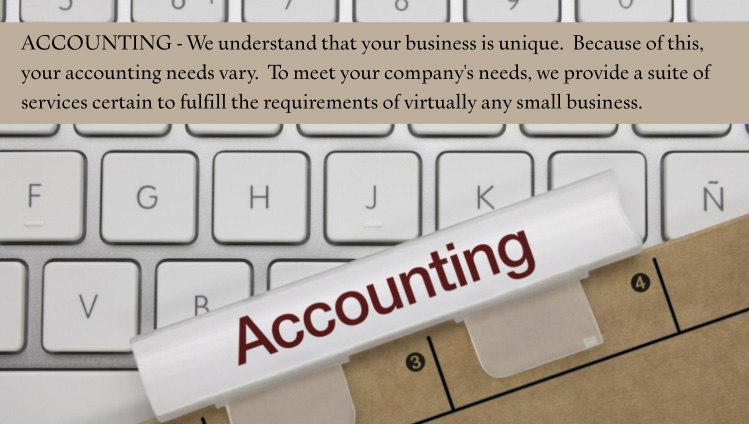 Every business is unique. Because of this, accounting needs vary. To meet your company's needs, we provide a suite of services certain to fulfill the requirements of virtually any small business.
Please review the list below. We will create a custom package based on your business needs and budget. Please don't hesitate to call us and ask why our services are well-matched with your needs. If something you need is missing, please don't hesitate to call. If we can't do it, we certainly know who can.
Accounting Services for Small Business
Bank Reconciliations
Bookkeeping Services
Budgeting
Cash Flow Management
Conversions from Manual to Automated Systems
Financial Statement Preparation
Full-charge Bookkeeping
General Ledger Preparation
Human Resources Management for Small Business
Income Tax Preparation
Loan Application Preparation
Notary Public Services
Payroll Services
Preparation of Unemployment Forms
Loan Package Preparation
Return Preparation
Tax Planning
and more
CKR Financial Services, based in Las Vegas NV, is an Independent Associate for LegalShield. You can run your business worry-free knowing affordable access to legal advice and services are right there when you need them. LegalShield has plans for traditional businesses, self-employed individuals and home-based businesses. Get complete peace of mind from top quality legal products and services for your business. For one low monthly fee, a highly qualified local attorney will champion your cause whenever the need may arise. We do not offer legal advice or services.
Call us at (702)463-0990 to create your custom fit accounting package today.